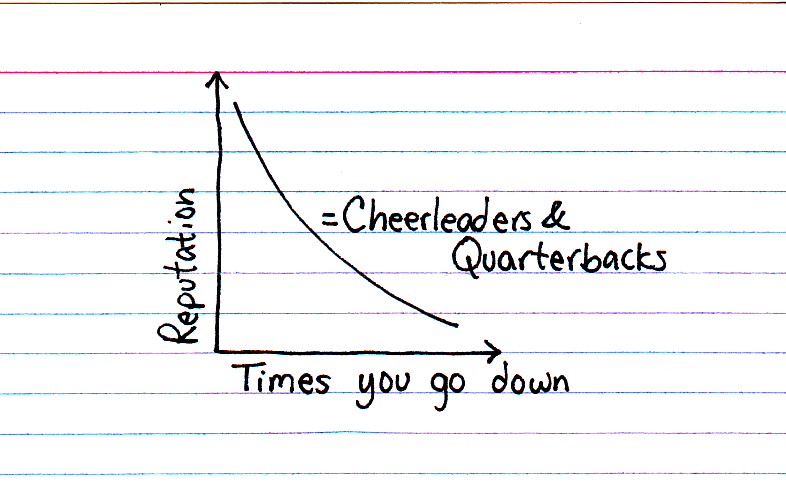 Yes, I was a cheerleader - most of you don't know me that well so that may or may not be a surprise... but trust me to the people that do - It's a surprise. However, I wasn't very popular. So how did this happen -breaking the age old law of high school social class. Well a few things:
1) I was on the "Hockey"squad. Despite the fact that I lived in the "Hockey State" and despite the fact that Hockey is awesome! - this was
not
the
cool
squad to be on. (Correct Answer: Basketball)
2) As I mentioned earlier I lived (and live) in the Hockey State (Minnesota). Cheerleading wasn't nearly the thing it is in the South. And at my school - it was even less of a thing. (Though it is a thing there now). Needless to say it wasn't a free ride to the A class.
It mattered to me then that I wasn't cool, and it bothered me that I couldn't just fix it my joining a "sport". As time as gone - the desire to be "popular" has pretty much diminished entirely from my life. In college I was recognized, and had a vast circle of friends. I even partied with the cheerleaders! lol. When I graduated I thought this sort of recognition might continue - and to a great extent the experience has given me the confidence to be myself regardless. However, I felt there was a similar sort of "high-school" social system at the last place I worked. It was awkward because I had grown past any need to play "social games", but at times I still felt a sense of being an outcast. Some of the same insecurities I had in high-school cropped up from time to time and it made me feel helpless. As soon as I left most of those feelings were gone. Problem solved.
Not quite - I'm left with a scared feeling that whatever high-school awkwardness,
uncoolness
, insecurites? aren't gone, but just minimized by environment. Do you think that how we were treated in highschool affects who we are? Should it?